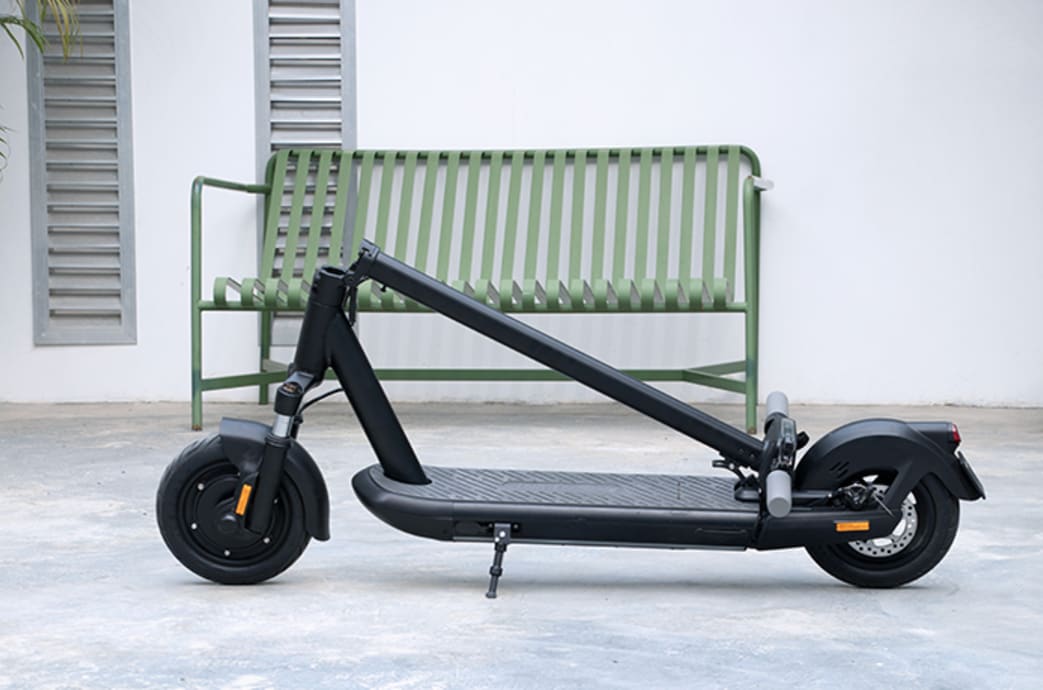 ---
INMOTION L9 FIRST LOOK
---
ScooterzMalaysia's Verdict:
Super Long Range
Great Motor Power
Heavy Duty
A Tad Heavy
Compact
Well Priced
---
Start Cruising in Style!
Tired of the same old commute? Has finding a parking space, sitting in traffic, and worrying about gas prices started to bore you? Cities are made to be explored. But cars are inconvenient, and bicycles can leave you sweaty and exhausted. Enter the INMOTION L9, an all-new way to explore your city. With an unrivaled range, a lightning-fast Dash charger, and a smooth and comfortable ride, the L9 will help you see a whole new side of your city, and redefine your daily commute. Whether going to work, zipping around the neighborhood, or heading out to explore your town, the L9 will let you relate to your city in a whole new way. It's safe, durable, easy to use, and best of all? It's a blast to ride!



Need to head out into the city, but worried about sharing space on an Uber or public transportation? Not sure how far you'll need to go? Don't sweat it. With the L9, you'll never need to worry about getting where you're going or getting back home. That's because the L9 boasts batteries with truly massive capacity, supplying an unbeatable range of up to 59 miles/ 95km between charges. That means the whole city is in your cruising range, and you'll never need to worry about how you're getting back.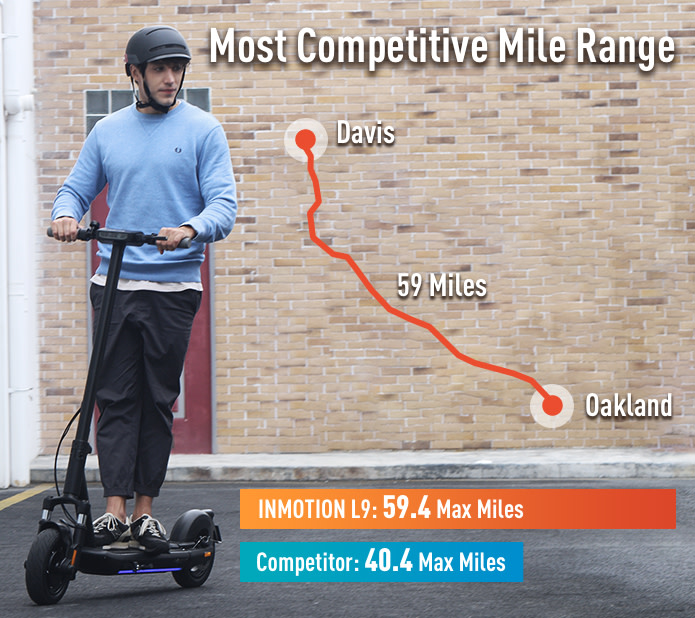 The L9 isn't just about peak performance, it's also about providing a fun, comfortable way to experience your city. It's been custom-engineered to provide a smooth ride from the ground up, starting with 10" tires featuring a unique shark fin tire pattern. This large tire size and the tire pattern work together to provide a silky smooth ride and great traction on even tough terrain. Then, our unique front- and rear-spring shock absorption system provides you with unprecedented comfort and stability, even over rough surfaces or speed bumps. On any kind of road, in any conditions, you'll glide right over trouble with speed and style.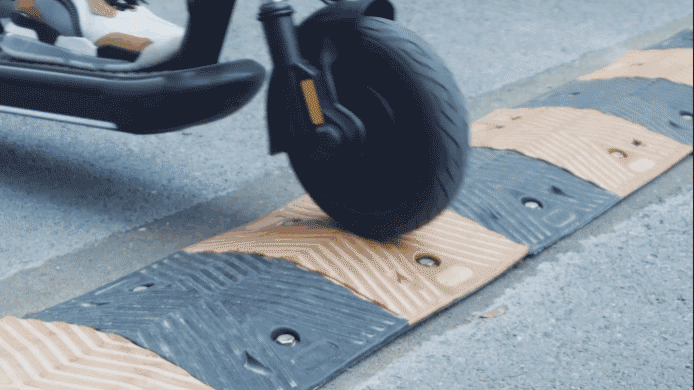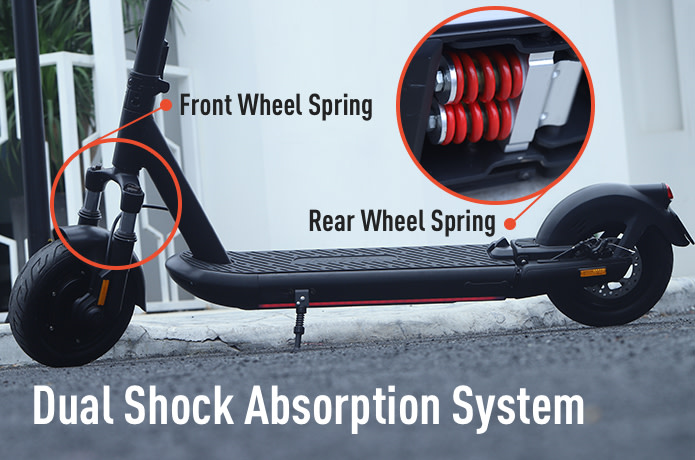 The L9 also features a wide, 7"/18 cm deck to provide you with comfort and control while you cruise. With space for both feet, this deck is perfect for longer trips.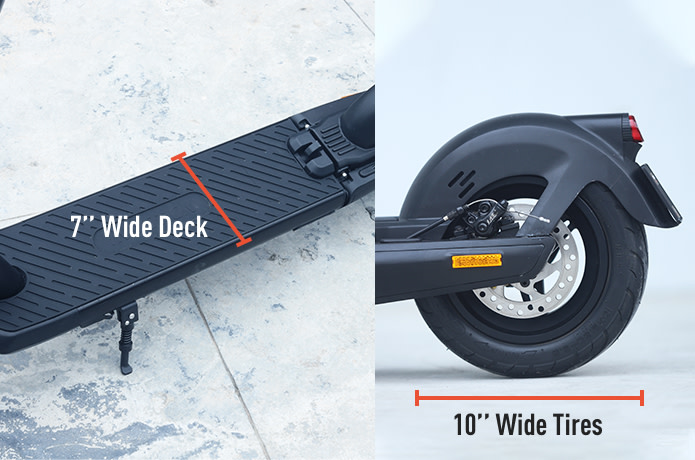 Whether you're an experienced rider or a brand-new beginner, you'll never need to worry about safety with the L9. It features both a traditional disc brake and electronic dual braking system (EBS), providing a shorter braking distance and more stable braking experience, as well as providing regenerative braking for recycling power when you slow down . The L9's EBS system offers the best in class responsiveness, stability and steerability- resulting in the best in class road safety.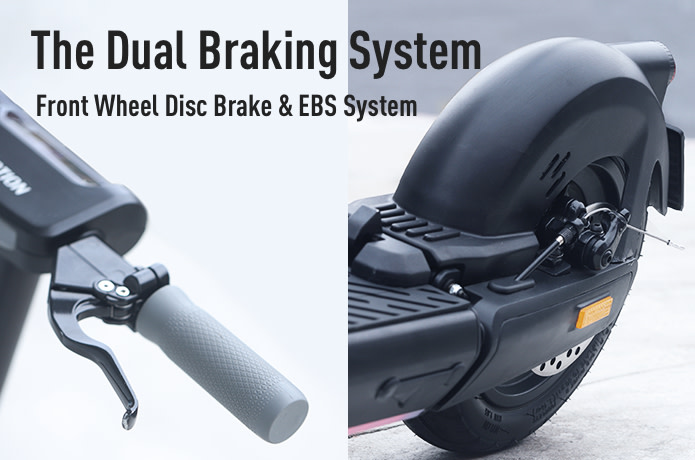 The no-slip deck is rubber-coated, for increased friction and riding safety, and is only 76mm high ensuring the most stable center of gravity possible. This will help you keep a stable position even during tight turns or quick stops. The L9 also features a wide, 7"/18 cm deck to provide you with comfort and control while you cruise. With space for both feet, this deck is perfect for longer trips.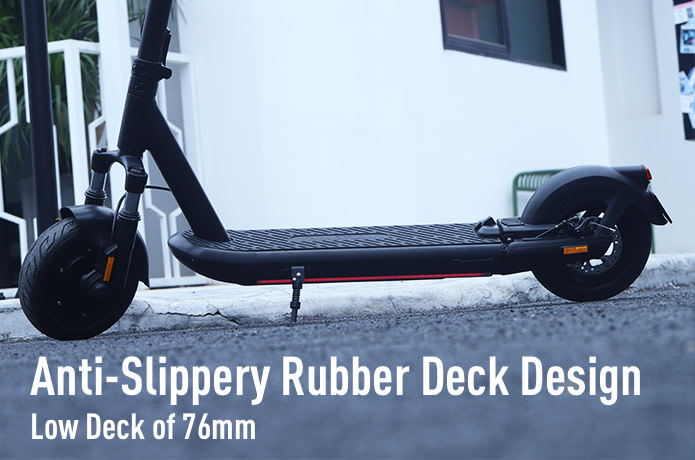 The size and safety of the L9 battery is second to none. Featuring a Smart Battery Protective System (BPS), that protects you from anything: over-discharge, short-circuits, and overcharge, all while providing battery equalization and temperature protection. Stay safe while you cruise in style.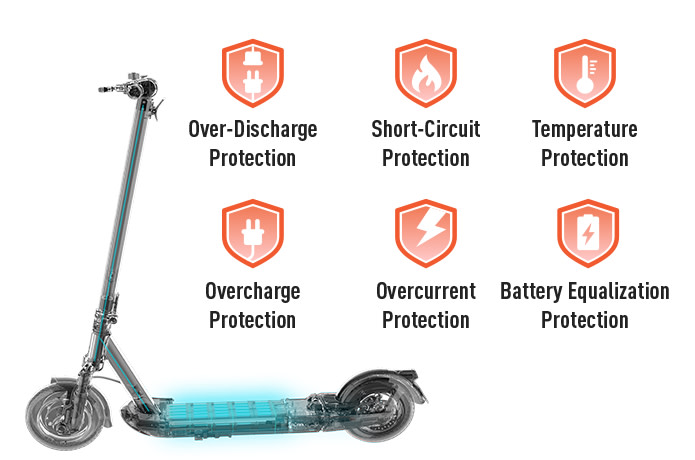 The L9 comes equipped with an intelligent turning sensor and automatic turning lights. Built-in gyroscopes help the L9 know when and how you're turning, so it can hit the red and blue automatic turning lights. When riding at night you'll not just see better and be seen better, you'll also look great- enhance your safety with style!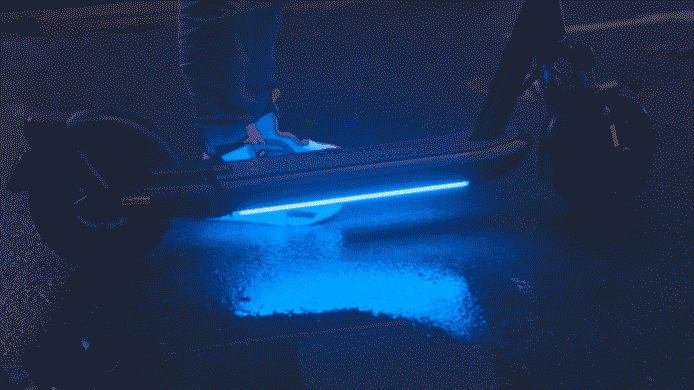 Navigating the city by bike can be exhausting, especially in hilly terrain. Instead of sweating your way around, let the L9 take you anywhere with ease. The L9's impressive motor far outstrips the competition, with a max rating of 1000W. This impressive power provides plenty of torque-on-demand, helping you conquer any terrain you come across, even up to 30% grade slopes. From San Francisco to Shanghai, with the L9 you can cruise anywhere.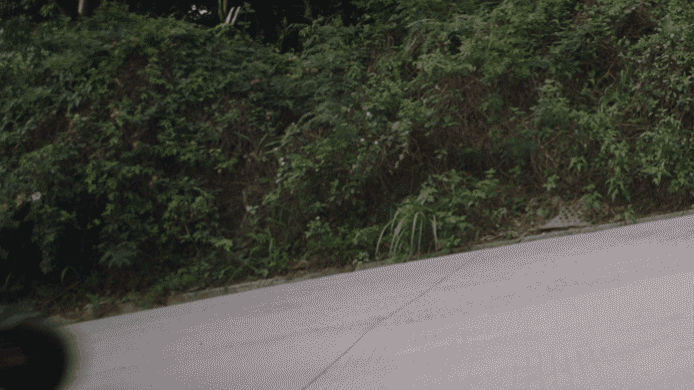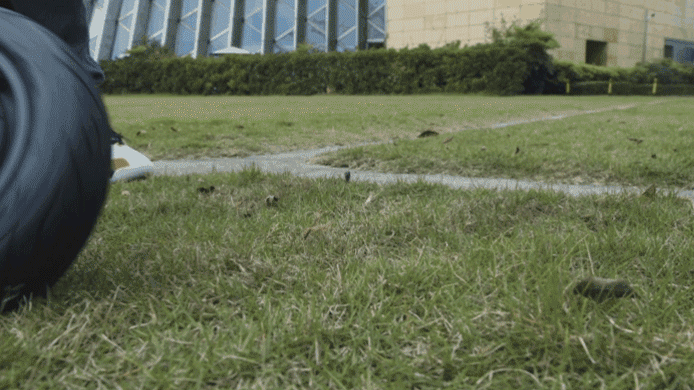 It also supplies an exceptional top speed of 18.6 mph (30 km/h), enough to let you whiz through town rapidly. We also offer a German-standard version of the L9, with a top speed of 12.5 mph (20 km/hr), in case you need it.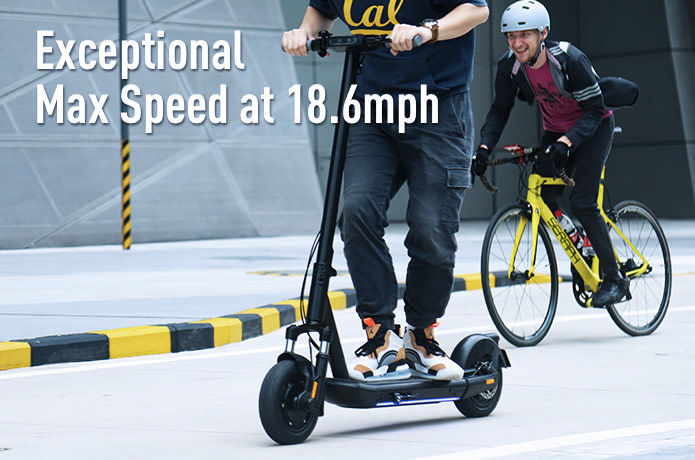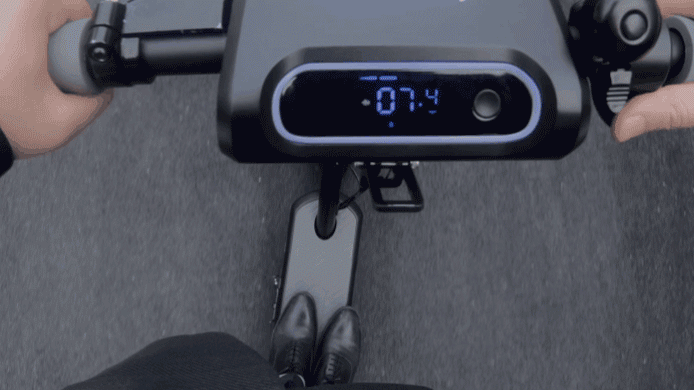 Charging your L9 from zero to full capacity takes less than 7.2 hours, and with 59 miles/95 km between charges, you can probably recharge as little as once a week. But what if you're in a hurry? No problem, since the Dash Charger add-on allows you to cut recharge times in half. In just 3.6 hours you can fully charge your batteries, enough to take you another 95 km. Go anywhere in town, anytime you need, with the L9.


Want to mix and match your travel solutions? Combined commuting is a great way to save time. All the convenience of a train or subway, with unbeatable speed to cover the last mile. And thanks to its foldable, portable design, the L9 is the perfect combined commute machine. When you need to get around quick, just fold the L9 up and store it wherever you need- just 49 inches by 21 inches, and it weighs less than 44 lbs/24 kg! When you're ready to roll, just unfold it and start it up in under 2 seconds. Anywhere you need to take it, the L9 will have your back when it's time to cruise in style.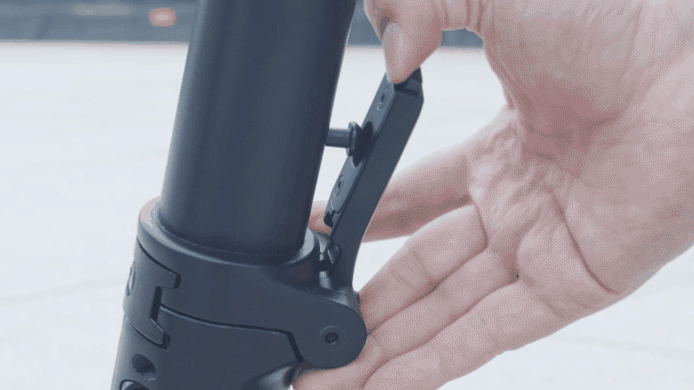 Looking for a new way to get to and from work? Not a problem. The L9 isn't just fun- it's resilient and durable enough for your daily commute. It's got a robust aluminum frame, water-resistant battery, dashboard, controller, and deck, and it's built to carry anything you need. It has a load capacity of up to 330 lbs/150kg, far more than comparable products, making it the perfect thing if you need to dash to the store.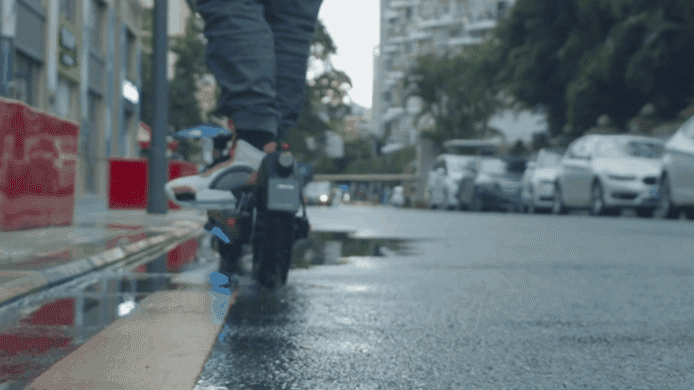 The L9 comes equipped with an app-enabled smart dashboard, making it safer and more convenient to use on the go. Choose from three different speed modes that suits your needs at the touch of a button.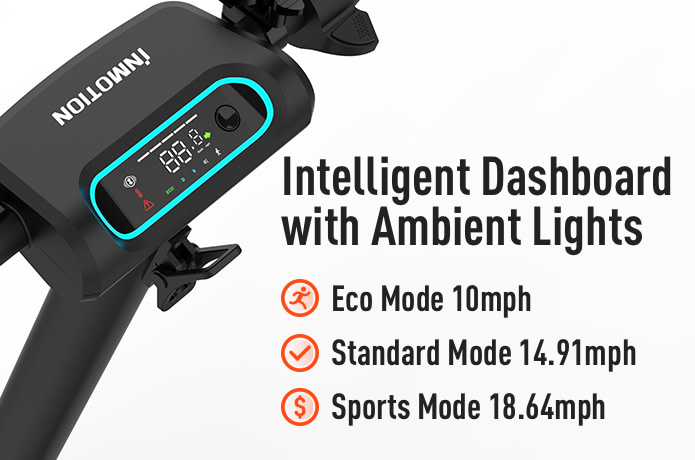 You can also use our proprietary app to control your lightning scheme, set your cruise control, report errors, track your route or check your riding stats, any time. You can use it to tweak your intelligent control lights on the front, rear, and sides. Headlights, red and blue ambient lights, and automatic turning lights can all be tweaked to your heart's content. Best of all, you can use the app to lock or unlock the motor, so you never have to worry about leaving the L9 alone. And, you can use the L9 bluetooth-enabled app to limit your max speed at the touch of a button, if you need to comply with any local speed regulations.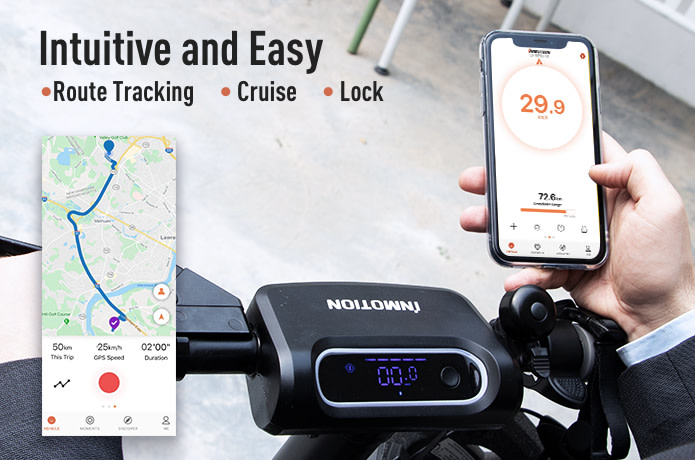 And best of all, the L9 is intuitive and easy to use, for anybody. Just like a kick scooter, the L9's controls can be picked up in almost no time. In five minutes or less, even novice riders can be cruising the city in safety and style. What are you waiting for?



The L9 isn't the only great offer. Our accessories provide the truly optimum cruising experience, with that perfect blend of convenience and comfort. The removable, adjustable-height seat is exactly what you need to cruise comfortably for longer commutes, and adjusts as much as 20cm to accommodate riders of all heights.
Besides, INMOTION L9 contains a dash charger, which takes 7.2 hours to reach its full capacity. With an additional add-on charger, you can charge to full in 3.6 hours.
There is no extra shipping fee for add-on accessories so we recommend that you purchase the combo perk with additional seat and charger.


Established in 2012, INMOTION is experienced in robotics and vehicle dynamics development with more than 8 years of experience in the field of electric scooters. INMOTION has reached a worldwide community by selling multiple electric scooters, such as the L6 and L8 models. INMOTION has delivered over 1,000,000 units to their happy owners on a global scale. In addition, we have more than 230 creation patents as well as several international awards including the World Green Design Product Award Silver Prize and iF Product Design Award in Germany.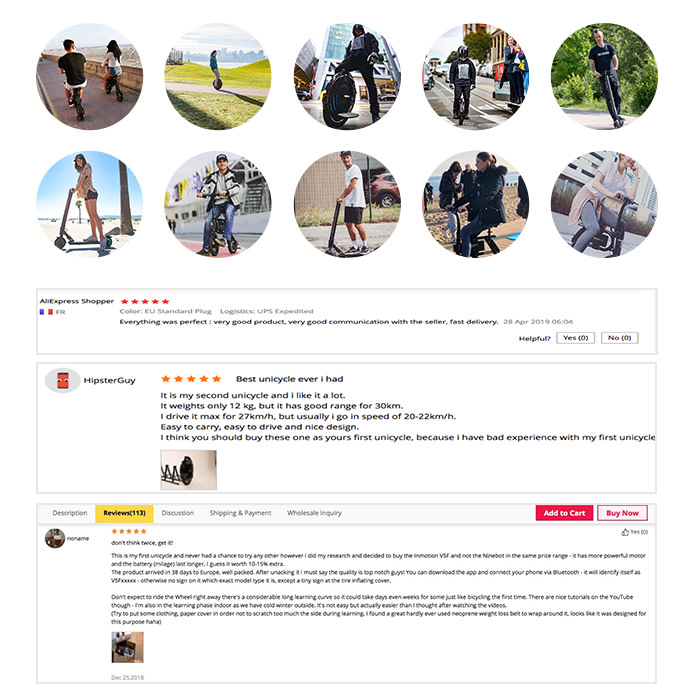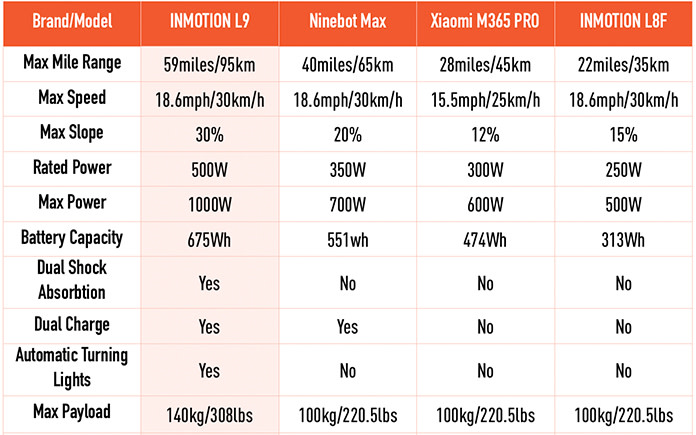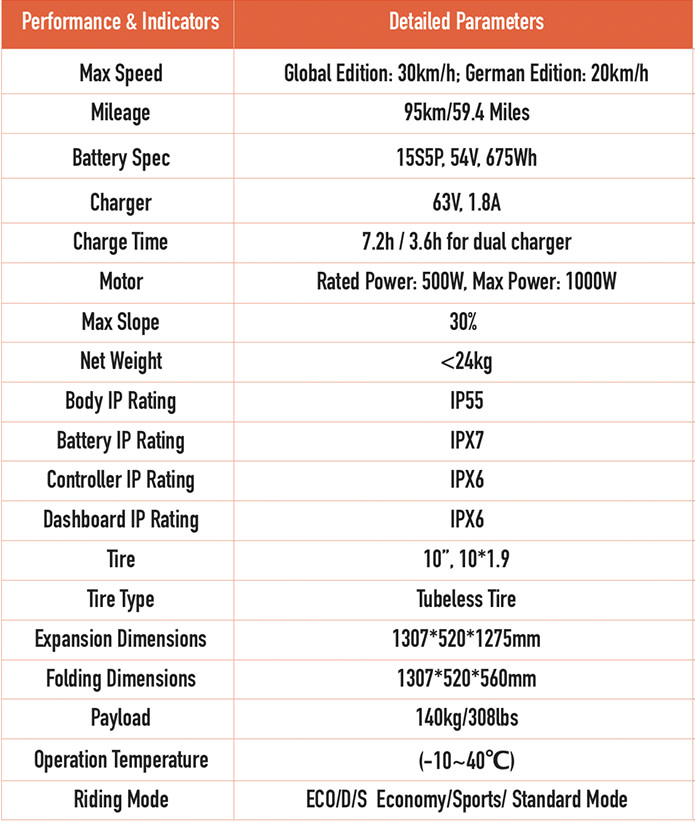 INMOTION has entered the mass production stage as officially verified by Indiegogo. We guarantee to start shipping in August of 2020. In order to adjust different country regulations on electric scooters, we provide two editions of L9 to our global customers, including the Global Edition and the German Edition. We will ship the German edition to all German addresses and the Global edition to other countries. We are already in the process of getting German certification, approved by the German Federal Motor Transport Authority. Please consult the FAQ section for more information in regards to the German Edition.
Update on the 1st batch of L9 at T0 stage: