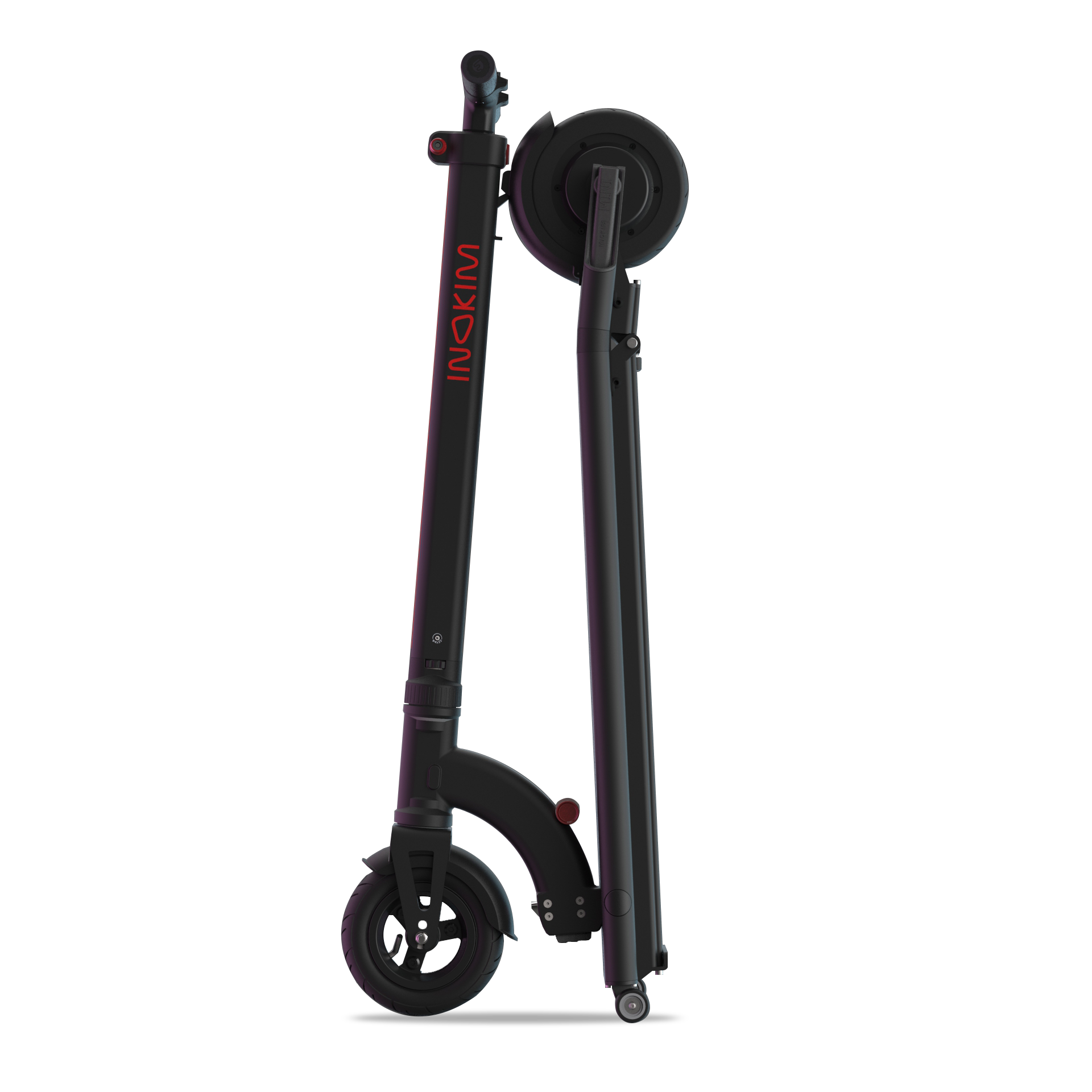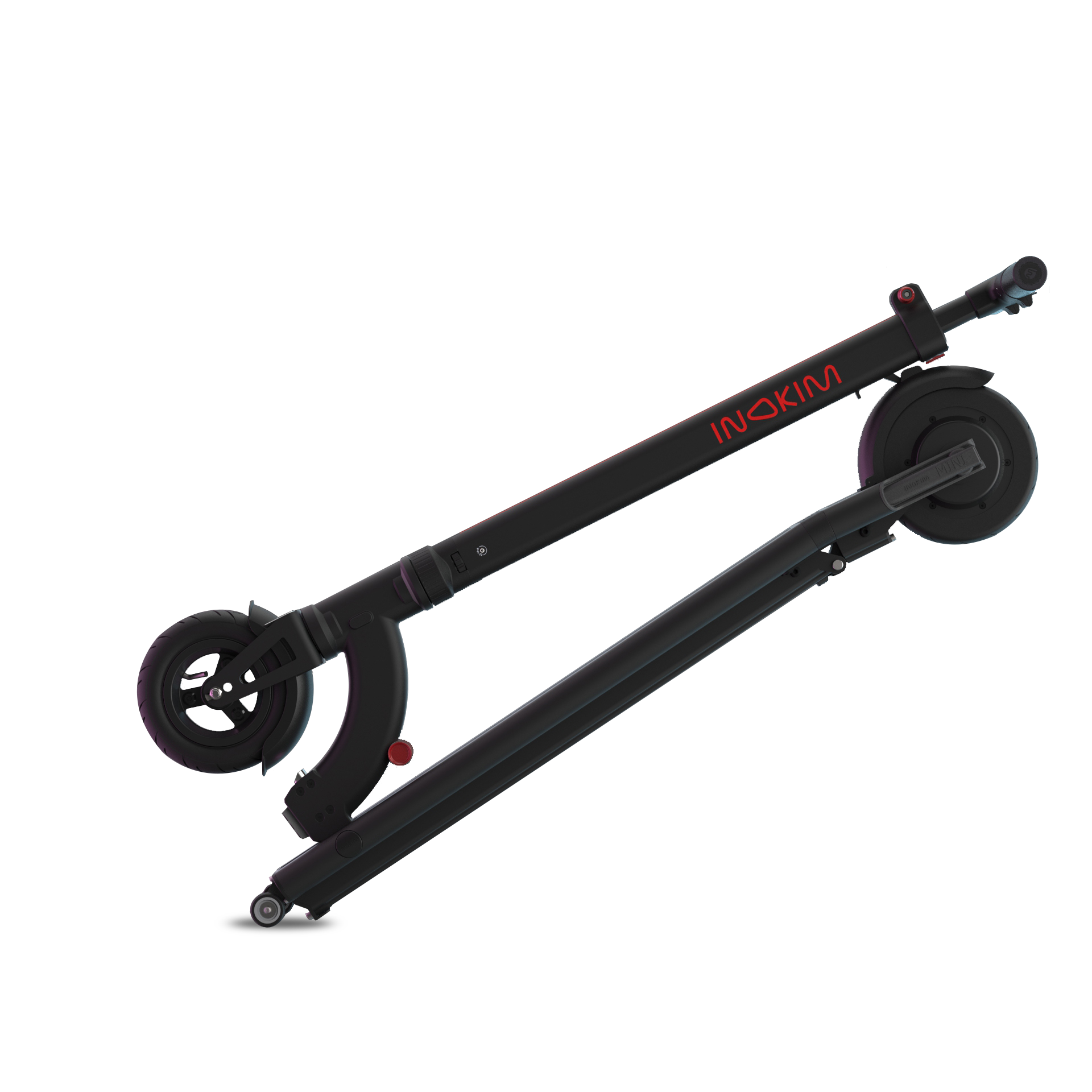 The INOKIM mini 2 is the latest and lightest electric scooter from the INOKIM line, designed to be a lightweight portable last mile solution without compromising on safety and ride comfort.
Weighing only 10.5 kg, the design of the mini+ blends with the compactness this model is acclaimed for. The built-in trolley wheels on the mini 2 allow you to trolley it around with ease. The additional trolley wheels also allow the scooter to stand vertically to save space. This model is perfect for students getting around campus or just running errands in the city. With its minimal footprint, this foldable electric scooter takes up very little space and is perfect for taking it with you into cafes, supermarkets, offices, and even classrooms.

Safety
The INOKIM mini 2 is equipped with 6-inch pneumatic front tire, and a rear 6-inch solid tire which handles bumpy surfaces well and provides better traction on slippery surfaces, making your ride comfortable and safe. The INOKIM mini2 comes with 2 braking systems: the front EABS electric brake and a rear fender brake.
Extras
The INOKIM mini 2 is also equipped with a built-in USB port for charging your devices on the go. Handle bar height is also adjustable to your preferred riding position. This version is equipped with dual riding modes: an energy saving mode and a performance mode. Rear suspension allows for a smoother ride.
Environmentally Friendly
Our products are alternative transportation options, designed to be efficient, eco-friendly and effective. The average commute from home to work is about 6km to 7km one way. Our foldable electric vehicles will eliminate the need to drive, and get you where you need to be without the use of a gas consuming vehicle. Scooterz Malaysia is committed to reducing the impact of carbon producing vehicles. Urban mobility is essential and affects our quality of life. Let's navigate our beautiful cities, the earth-friendly way.
SPECIFICATIONS
Range23 - 28 km
Charge Time4 hours
Top Speed25 km/h
Weight10.5 kg
TiresFront tire 6" pneumatic; Rear 6" solid rubber
Max Load75 kg
Foldable Size87 cm X 38.4 cm X 30 cm
Unfold Size91 cm X 38.4 cm X 113.5 cm
Transmission250 W
BatteryLG 36V 7.8 Ah
BrakesEABS Electronic Brake + Rear Fender Brake
Mini 2 Electric Scooter
Inokim's Latest most compact electric kick scooter weighing only 10.5kg, with a powerful 250 watt giving you a top speed 25km with a range of 25km. This Scooter has the latest electronic braking system uncompromising safety features with a 6 inch pneumatic tyre in the front and a solid 6 inch rear tyre. This Versatile Scooter is ideal level ground travel and very compact.

Ideal for level flat level ground with small gradient hills in urban and city areas.
COLOURS
Google Maps:
ScooterzMalaysia.com Xperience Centre, Sunway South Quay, Jalan Tasik Selatan, Bandar Sunway, 47500 Subang Jaya, Selangor
-Opened by Appointment-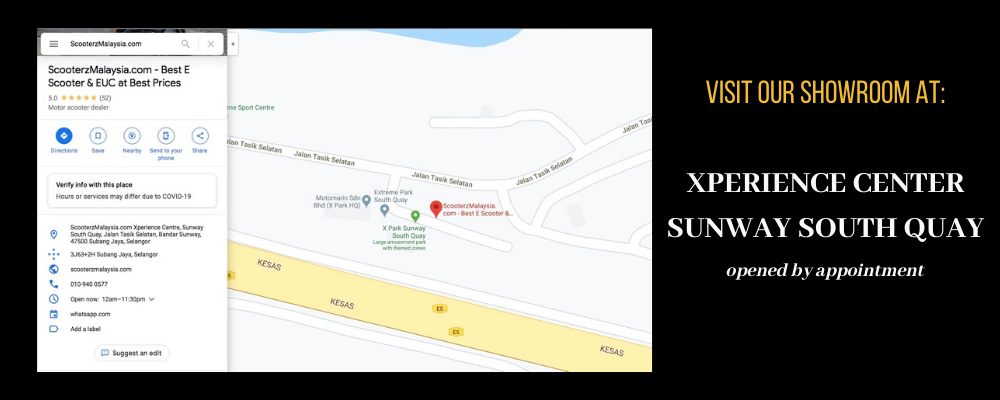 ---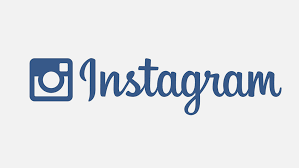 ---